Voted Best In Burgers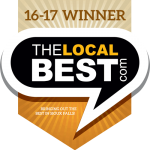 THE LOCAL BEST 2016 – SIOUX FALLS
Voted #1 Burger in Sioux Falls four years straight!
Voted Best In Burgers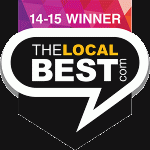 THE LOCAL BEST 2015 – SIOUX FALLS
Voted #1 Burger in Sioux Falls!
JL Beers Recently Opened a Restaurant Next to Borrowed Bucks and We Tried It. Here's What We Thought.
Written by: Karla Brown of Mix 97-3 on June 23rd, 2015
Last week, Ben, Patty, Tony and I visited the new JL Beers next to Borrowed Bucks Roadhouse on S. Western Avenue. We needed to make sure this location was as good as the one in downtown Sioux Falls – and it is.
It was lunchtime, but we were lucky enough to secure a booth. Like their slogan says, "Seating for 1,000, 47 at a time." It's a small space with a few booths, bar stools and a handful of tables outside on the intimate patio. Our server was Zach and he was good! It's a very personal experience. They even give you name tags to wear. Even though none of us had alcoholic beverages because we were technically still on the clock, we had several questions for Zach about the beer selection. Zach knew his stuff. He suggested a few of his favorites to try the next time we came in.
Patty ordered the BLT Blu burger with bacon, lettuce, tomato, blue cheese and mayo. Ben had the Classic Burger which was piled high with lettuce, tomato, pickles, raw onion and special sauce. Tony enjoyed his favorite, the Humpty Dumpty burger with a fried egg and cheese. I hear these are really good, and I like eggs, but I'm really scared to try it. I had the Classic Cheeseburger. Just a simple cheeseburger with ketchup. I skipped the pickles. All of the burgers were big and juicy and cooked perfectly. The buns were toasted and that is the only way to serve a burger.
Instead of chips, we all ordered fries. Who can pass up hand cut fries? We added sides of the jalapeno ranch and BBQ ranch dips to dunk our fries in. JL Beers fries are a big hit.
At the end of the meal the manager, Ryan, came over to ask how our lunch was and he was also very knowledgeable about the beers. After all, it is called JL BEERS, the staff better know what they're selling.
We're super excited that we now have a JL Beers close to us. It was a little hard to get downtown when we work in the 57th and Louise area. We'll be back and I'll order the exact same thing. Yum!