Best of the Red River Valley 2016
Best Burger & Best Fries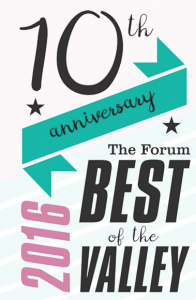 Written by: Tracy Briggs of The Forum of Fargo-Moorhead on October 29th, 2016
What is your reaction to your follow-up win?
"We try to put out the best burgers and beer everyday and we're just glad people seem to appreciate what we do," said Brandon Nilson, general manager of JL Beers in downtown Fargo.
What makes your burgers different?
"We use the best possible ingredients because we know that's how you get the best products," Nilson said. "There isn't a bad burger on the menu."
What's your favorite burger?
"I'd have to say the Humpty Dumpty burger. It's just a burger with a fried egg and American cheese on it. That's it. But it's really good," he said.
What makes your fries different?
"They're ours," Nilson said. "We don't pre-cut our fries and chips. We cut them after you order them. You can't get more fresh than that!"
What would you say to someone who has never been to JL Beers?
"We're in our seventh year in Fargo-Moorhead," Nilson said. "I'd invite them to come out and try it."
Fargo Monthly's Flavor Awards 2016
Written by: Erica Rapp of Fargo Monthly. June 2016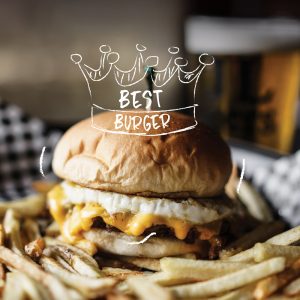 Photography by: Paul Flessland
Best Burger – Humpty Dumpty®
As the winner of many burger awards, including some of our own, the Humpty Dumpty burger has been a staple menu item at JL Beers since day one. With just a fried egg and American cheese amidst a perfect bun and patty, this burger proves that less can really be more when it comes to great flavor. You can also add bacon or substitute the beef for a black bean, wild rice and quinoa patty as your heart desires.
HPR's Best of the Best 2016
June 5th, 2016
JL Beers Awarded – Best Burger & Best Craft Beer Selection!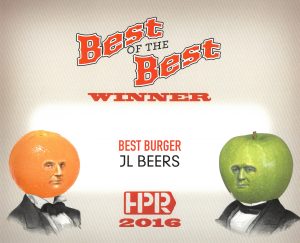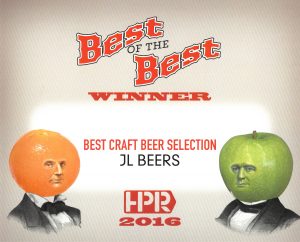 The Best Bar in Every State
Written by: Talia Avakian of Business Insider on March 4th, 2016
America is home to some incredible drinking spots. We teamed up with Foursquare, the city-guide app for discovering new places, to put together a list of the top-rated bars in each state and Washington, DC, based on user ratings on the app. The list ranges from upscale cocktail bars to wine joints to craft beer bars.
NORTH DAKOTA: JL Beers
JL Beers is famous for its outstanding beer and burger selection. It has imported bottles from around the globe, mixed brew selections, and "beertails" like the Oatmeal Cookie — an oatmeal stout mixed with a splash of Lindemans Framboise (Raspberry) Lambic.
Best of the Red River Valley 2015
Best Burger & Best Fries
Written by: John Lamb of The Forum of Fargo-Moorhead on October 31st, 2015
What's the appeal of the JL burgers?
"Honestly, it's the simplicity. We don't over¬complicate it. It's straight¬forward. Because we keep our menu simple, we keep our products fresh," says Lane Johnson, assistant manager at the downtown Fargo location.
What about the fries?
"It's a fun thing to watch, people trying to see how that works. They see that pressurized fry¬cutter and every time they hear that noise they look over and say, 'Oh cool. That's how they do it.' It's kind of entertaining to them. It gives them a show. They can see everything that's being made for them. There's no curtain."
How many potatoes do you go through in a day?
"It depends on the day, but we can go through 250 pounds."
HPR's Best Bets 2015
May 28th, 2015
JL Beers Awarded – Best Burger, Best Craft Beer Selection, and Best Lunch!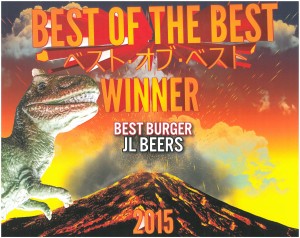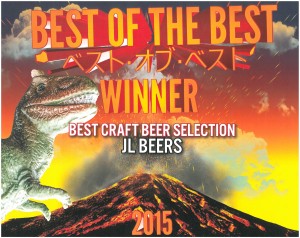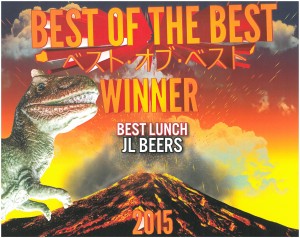 MSN.com – The Best Burger in Every State
MSN Food & Drink – February 2015
We conducted painstaking journalistic research to figure out the very best burger in every state, from mom-and-pop joints to celebrity-chef restaurants and everything in between.
NORTH DAKOTA: JL BEERS
For less than five bucks, you can get JL Beers' delicious Humpty Dumpty, which comes with cheese and a fried egg on a soft bun. This regional chain, which originated in North Dakota, recently won best burger by High Plains Reader and other publications.
2014 Best of the Red River Valley

Best Burger, Best Fries, and Best Beer Selection
Written by: Dave Olson of The Forum of Fargo-Moorhead on November 22nd, 2014
Locations: 518 1st Ave. N., Fargo, (701) 492-3377; 4240 32nd Ave. S. Fargo, (701) 356-4240; 2902 Highway 10 E., Moorhead, (218) 422-4400; 810 13th Ave. E., West Fargo, (701) 373-8484
Reaction to winning: "We're excited to be recognized again. We've won those same awards the last couple of years, and it really means a lot to us for our customers to vote and show their appreciation continually in those categories," said Lance Thorson, co-founder of JL Beers.
Secret to your success: "I think just having a love for what we do and having a true passion for craft beer. As far as the food portion of it, we don't have a huge menu, so items we do have – hamburgers, fresh-cut fries and chips – we try to do the best we can to maintain a quality and a value people enjoy."
Something people don't know about your business: "We are continuing to expand. We have a franchise in Minot that will be opening in February, and we're looking at another location in Sioux Falls, S.D."
Best Burgers in Fargo
Written by: Andrew Jason of Fargo Monthly on June 12th, 2014.
Photography by: J. Alan Paul Photography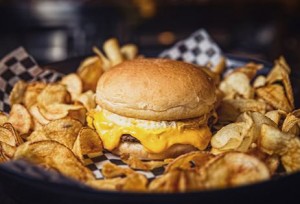 Of all the food groups, burgers might be our favorite. What other food says summer like a juicy, thick and succulent burger topped with unique toppings. We took a poll to find out your favorite burger in town. Welcome to Fargo Monthly's first annual best burger competition.
Humpty Dumpty from JL Beers
Shocking, right? Was there even a debate about what the best burger in town was? The Humpty Dumpty burger is the consensus favorite in Fargo, and for good reason. Not only has JL Beers become a staple burger spot in Fargo, their beef is always memorable and they are always rolling in new beer on tap. Any burger on the JL menu is a winner, but there's only one that can make you second guess your decision to order anything else. The simplicity of the ingredients makes the Humpty Dumpty burger extremely appealing for any hungry Fargoan. The flexibility that comes with a quarter pound burger patty, one egg and cheese is endless. Bacon is a popular choice among patrons looking to spice up their Humpty Dumpty experience. Add a shot of Sriracha if you dare to walk the line of deliciousness and mediocrity. Ultimately, like any great burger, it comes down to the burger patty. The quarter pound greatness that comes off the JL grill is juicy and enticing enough to have anyone salivating.
The Chive – Best Burgers in Every State
May 22nd, 2014
It's National Hamburger Month for those of you who didn't know. I'll be the first to admit that I'm sure there will be much controversy over the burgers which were crowned the "Best" in the state. However, I think that makes for the perfect opportunity for you guys to voice your opinions as to what you think the best burger is in your own state.
This list was created based on accolades, reviews, and taste tests according to the good people over at Businessinsider.
NORTH DAKOTA: For less than five bucks, you can get JL Beers' delicious Humpty Dumpty, which comes with cheese and a fried egg on a soft bun. This regional chain, which originated in North Dakota, recently won best burger by High Plains Reader and other publications.
HPR's Best Bets 2014
May 1st, 2014
JL Beers Awarded – Best Burger, Best Craft Beer Selection, and Best Lunch!
JL Beers went home from HPR's awards event with a triple win, so it must be doing something right. Clearly the extremely fresh and tasty burger selection, fresh-cut fries and variety of dipping sauces have something to do with it.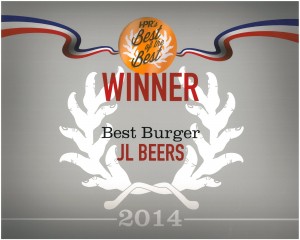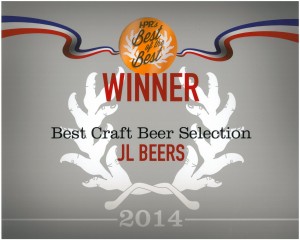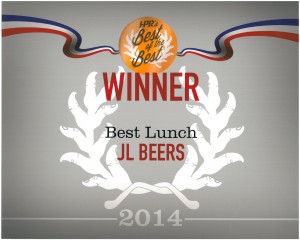 Clean Plate Award
Reported by: Valley News Live on March 4th, 2014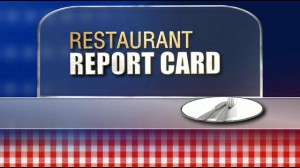 Tuesday is time for the Valley News Live Restaurant Report Card. Every week we investigate area health inspection reports to see who is keeping up to code…and who isn't.
Heading out to West Fargo we find our Clean Plate Award winners JL Beers, who haven't had any violations in the past three inspections. Recently we also awarded the JL Beers in Downtown Fargo. The beer and burger joint says cleanliness is a top priority.
"Making sure that everything is clean and everything is spotless here is one of our-top-most concerns on top of giving the best service we can," says JL Beers Supervisor and Beertender Christopher Narum.
2013 Best of the Red River Valley
Best Burger, Best Fries, and Best Beer Selection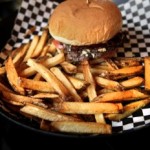 Written by: Wendy Reuer of The Forum of Fargo-Moorhead on November 16th, 2013
Locations: 518 1st Ave. N., Fargo, (701) 492-3377; 2902 Highway 10 E., Moorhead, (218) 422-4400; 810 13th Ave. E., West Fargo, (701) 373-8484
Reaction to winning: "It's always exciting to be recognized and honored as the local fans' favorite in the community," said Lance Thorson, part-owner of JL Beers. "We greatly appreciate that."
Secret to your success: "We just love what we do and we're passionate about craft beer, our burgers and our products," Thorson said.
Something people don't know about your business: JL Beers places a priority on using locally produced products as a way to give back. "Our potato products are all North Dakota potatoes, so they're all grown locally," he said.
JL Beers Says: 'Tap That App'
Written by: Angie Wieck of The Forum of Fargo-Moorhead on December 7th, 2012
Photography by: David Samson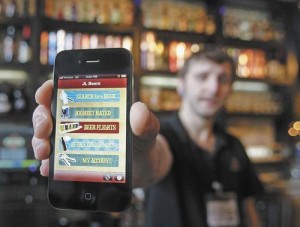 JL Beers is encouraging their customers to "Tap that App!"
The bar and restaurant has launched a free mobile app to help customers keep up with JL Beers' ever-changing selection of tap beers, read, write and share beer reviews, and keep a diary of personal consumption and tasting notes.
Co-owner Lance Thorson came up with the idea based on existing beer review websites. He wanted to create a site that concentrated on the beers they serve locally.
Because JL Beers brings in several beers every week, it doesn't print new menus each time a new product is introduced.
"This (the app) is the quickest and most informative way for us to get what we have on tap into the hands of our customers," Thorson said.
MacDalton Berns and the team at Absolute Marketing in Moorhead made Thorson's vision a reality.
They designed an app that also allows customers to search beer offerings by state or country of origin, by style of beer and by customer ratings.
Berns said the original app was quietly debuted months ago. After making a few enhancements based on customer feedback, a second version was recently launched. The app has now been downloaded more than 1,000 times.
The app is an extension of JL Beers' social media strategy, Thorson said.
When customers post a comment through the app, they will be able to post that information to their Facebook page. Friends who see the post may continue a conversation about the beverage through Facebook.
"It kind of creates a beer culture and camaraderie," Thorson said. "It's just kind of a fun thing for our guests to experience and share with one another."
To download the app, visit jlbeers.com/apps or search for JL Beers in Google Play or the Apple app store.
JL Beers has locations in Fargo, West Fargo, Moorhead, Grand Forks, Bismarck and Sioux Falls, S.D.
HPR's Best Bets 2012
November 16th, 2012
JL Beers Awarded – Best Burger, Best Craft Beer Selection, and Best Lunch!
Locals are extremely vocal about their love of JL Beers. My goodness, this burger and beer joint has it figured out. Since opening, the place can hardly keep customers away. For one, JL Beers has a feel-good atmosphere, its menu is simple, its food is full-flavored and its beers selection is far from wimpy.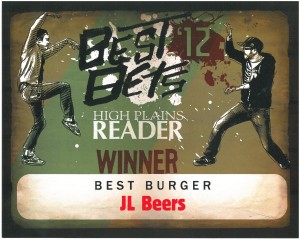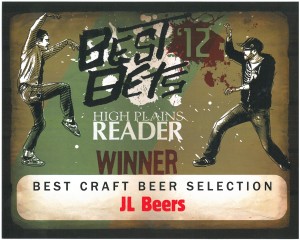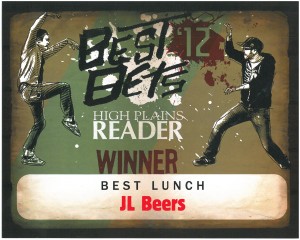 2012 Best of the Red River Valley
Best Burger and Best Beer Selection
Written by: Tracy Frank of The Forum of Fargo-Moorhead on October 26th, 2012
Locations: Three locations in the FM area: 518 1st Ave. N., Fargo, (701) 492-3377; 2902 Highway 10 E., Moorhead, (218) 422-4400; 810 13th Ave. E., West Fargo, (701) 373-8484
History: JL Beers also won best burger last year. This is the third year in a row the business has won best beer selection.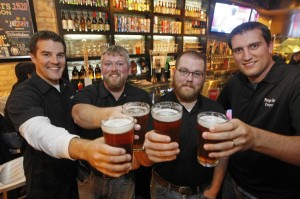 Reaction to winning: "Woo hoo! We're always excited to be recognized by our local customer base," said Lance Thorson, JL Beers part-owner and director of construction development. "We strive to have the best burgers and the best beer selection in the area, so we're thankful for the recognition."
Reason for success:"We enjoy what we do, and we make it fun," Thorson said. "We have a somewhat simple menu with the burgers and fresh-cut chips and fries, but we just strive to be the best at what we offer and offer good-quality products at a reasonable price."
123 Ways to LOVE North Dakota on our 123rd birthday!
123 Ways to LOVE North Dakota on our 123rd birthday (Nov. 2nd)!  #11 on the list is Stop in to JL Beers and have a Humpty Dumpty burger! What's more American than celebrating a state birthday with a delicious burger? Cheers, North Dakota!!
AdvoEats: JL Beers vs. Smashburger vs. Five Guys
Written by Matt Lech, Meghan Feir, Tyler Sorensen of MSUM's The Advocate on November 17th, 2011
Photography by Jessica Fleming
1st Place: JL Beers
Matt Lech: "JL's success is well-deserved, with its trendy atmosphere, excellent burgers and excellent selection of beers. The inevitable wait is always worth it."
Meghan Feir: "They were accommodating, kind and gave me quick service. I only had to wait a few minutes to be seated, and after I ordered, it only took six minutes to receive my burger and fries. That's what I call quality. The only thing I would change is the issue of water. You can get a bottled water, but free water is not offered. Their root beer is delicious, but slightly expensive at $4 a pop."
Tyler Sorensen: "While JL is rightfully known for its wide selection of beer — it's in the name, after all — for me, their burgers deserve just as much praise. I've never had a subpar dining experience. Even during their busiest hours, the wait staff are consistently polite and responsive. One never has to wait too long for their order. The atmosphere inside and outside is pleasant as well. A burger at J.L. Beers should be a rite of passage for everyone waiting to turn 21. It's hands-down the best local restaurant franchise."
2011 Best of the Red River Valley

Best Burger & Best Beer Selection
Winner: JL Beers
Written by Marino Eccher of The Forum of Fargo-Moorhead on October 28th, 2011
Location: 518 1st Ave. N., Fargo, and 810 13th Ave. E., West Fargo
Contact information: (701) 492-3377 Fargo and (701) 373-8484 West Fargo
Reaction to winning: "We're very excited," said Andrea Williams, manager of the downtown JL Beers. "We were telling people to vote for us. We didn't get it (Best Burger) last year, so we're very happy to get it done."
Secret to your success: "We serve our food really fast, and we serve quality food. I think that's something a lot of bars can't offer. We have a really good lunch crowd, and we have a really good dinner crowd."
One thing people don't know about your business: "One thing people probably don't know yet is we actually just got a couple of new burgers on the menu. We've got a Philly cheese burger and the coleslaw burger (a burger with coleslaw and barbecue sauce). They're both really, really good burgers."
bestof.areavoices.com/best-of-2011-the-winners/
HPR's Best Bets 2011
June 30th, 2011
JL Beers Awarded – Best Beer Selection, Best Burger, Best Lunch, Best Meal Under $10, and Best New Restaurant (West Fargo)!
Always a fan favorite, J.L. Beers has once again swept the categories of best burger, beer selection and new restaurant. They have 40 beers on tap, imported beers, mixed brews, beertails (instead of cocktails), over nine burgers, and more, J.L. Beers has exactly what you need for fun!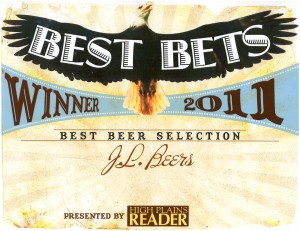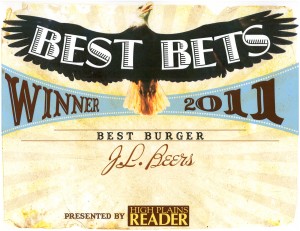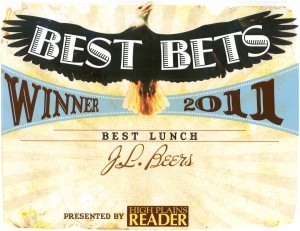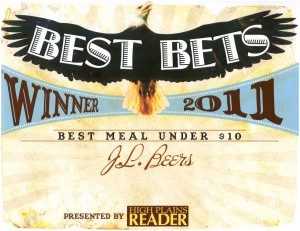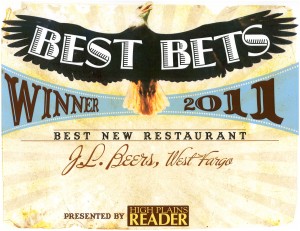 Review of JL Beers
Written by: Sarah Sutter of Feisty Eats on April 3rd, 2011
On Friday I had the pleasure of spending the evening with my parents. They drove down from Washburn to Fargo for my sister's 30th birthday! One thing she really wanted to do was go to JL Beers. I told my parents we would have better luck going to the West Fargo location since they seat 49 (according to their website, the sign in the restaurant said 72 maximum capacity) versus the downtown Fargo location which seats 24. I also thought if we went at 8pm we might have a better chance of snagging a table for 6 instead of right at 6 or 7 when more people might be eating.
I have been to both locations before and neither one of them disappoints in my opinion. The appeal is the small restaurant which serves only burgers and focuses on beer. There is a limited 1 page menu of burgers and several pages of beers! They also have root beer on tap and fresh cut fried chips.
Of course, I did forget that it was the Minnesota Twins opener that day! I think a lot of Fargoans support the Twins so there were some fans there. Although, the were probably sad because their opponent Toronto was whooping them.
We got a parking spot in the lot and went in to see the seating situation. As expected we did have to wait a while for a table to open up. While waiting, our server asked us if we wanted a beer. My parents weren't drinking but I asked our waitress for a recommendation for something similar to Blue Moon – light and fruity. She recommended the Widmer Hefeweizen – and I was skeptical. I have a few other Widmer beers before and I didn't care for them. I wanted to go with the flow though and be adventurous and I said OK. To my surprise she brought over a small pour for me to sample. In my previous trips to JL Beers they did not offer this and I was very happy she did. I did like the beer and ordered a tall one. I wish it would have came with a slice of lemon or orange but otherwise it was great.
A table quickly opened – we probably only waited for 5-10 minutes and we snagged it. My sister was not scheduled to arrive for another 15 minutes (my parents surprised her with their arrival!) so the rest of the table ordered drinks. JL Beers doesn't have ice! You can order a bottle of water or a pop but no ice. I think that is kind of neat and shows they focus on burgers and beers. We also decided to order a large fresh cut chips for the table. As always, they came out super quick and hot. I continued to sip on my hefeweizen which was refreshing, quenching and a bit hoppy.
I also signed up for JL Beers text club where we are supposed to receive special offers on occasion so I'm looking forward to that.
My sister and her fiancé arrived and the table ordered. I got the Rajun Cajun burger which comes with pepperjack cheese, cajun lime sauce, grilled red onions and a hamburger patty on a fresh baked bun. Others at the table order the BLT Blu, Humpty Dumpty (with egg!) and a plain cheeseburger. My husband order a large Cajun chips for us to share.
One of the best things about JL Beers to me is the quick time it takes for your food to arrive. The burgers are pressed and grilled from each side (no it does not make them dry) and take a mere 1 minute and 20 seconds to cook (I timed it). They hand cut the potatoes to make the chips and I think it takes longer for them to fry than the burger to be grilled on the flat top.
The burger was delicious. The highlight for me was the bun. It was incredibly fresh, so soft and airy and grilled just slightly to warm it. The cajun lime sauce added a nice flavor and I suspect they also season the burger. The onions were grilled to perfection. My only complaint (and my sister had the same) was the cheese was a little overwhelming. We both love cheese and felt like it could have been less. I'm not sure if they use two slices or if it is sliced thick but there was so much cheese it took away from the burger. The burger was cooked perfectly with just a hint of pink inside. The chips were hot and seasoned great with the Cajun flavors. My Mom ordered the Cajun Lime sauce on the side for dipping and that was also yummy. I need to know where those buns are made!
Midway through my meal (we seriously only had to wait for like 5 minutes for our food is all!) I decided to order another beer on my own and asked for a Kokanee Glacier. At my last visit they were out so I was happy when I server said they had it. It was a very light pilsner lager and is created by making the beer from mountain stream water. I thought it was extra bubbly and had a very good feel in my mouth. I was happy with these two beer selections as I wasn't in the mood for anything heavy or dark.
For dessert Mom had ordered a 1919 Root Beer float and that thing was huge! I had a sip and it was also good. Our server was always nearby to help us with anything and any questions we had. I will definitely return many more times. My sister was turned off by the "cramped" style but that is part of their appeal and what makes them unique. It is best if you have a small group and aren't afraid of sitting at the bar.
On the menu they said something about asking for a postcard. My Mom inquired and sure enough, they had a postcard with JL Beers on the front and our server told us we could fill it out to anyone we wanted and they would pay postage to mail it for us. Luckily, I had one of our family friends contact info in my phone so we sent her the postcard to Center, ND. Maybe one day they will join us for a hot burger and cold beer! My Mom also purchased one of the many t-shirts they had for sale. It was only about $17 and it was very soft.
JL Beers – I love your burgers, simple no nonsense menu and large selection of beers. Your buns are top notch and your quick service is appreciated. Two big thumbs up! Next time I will sit at the bar by the fryer and flattop so I can get some more details on your cooking techniques!
feistyeats.wordpress.com/2011/04/03/review-of-jl-beers/
Dining Review
Written by: Mike Dragosavich of FM Spotlight, March 2011
Photography by: Mjoy Photography & JL Beers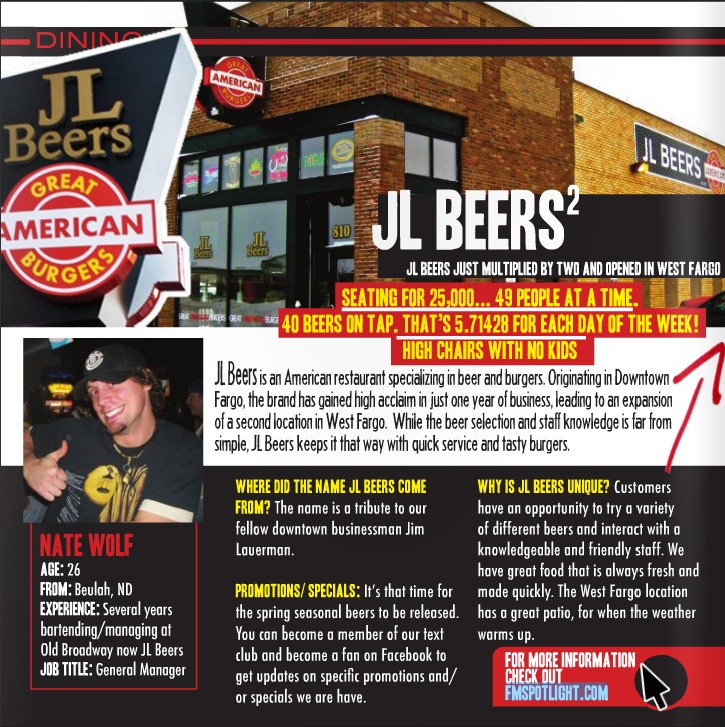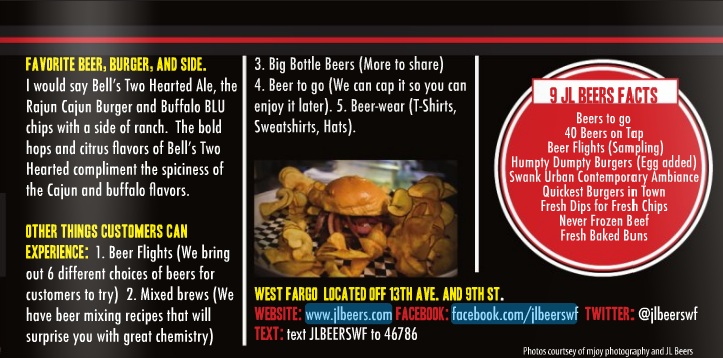 JL Beers expands to West Fargo
Written by: Marino Eccher of The Forum of Fargo-Moorhead on December 31st, 2010
Inside and out, the new JL Beers in West Fargo looks as if it were plucked straight from downtown Fargo and planted in an open lot at 810 13th Ave. E. – a tan brick exterior, a long, slender profile, and even a soon-to-be-installed (and purely decorative) fire escape. "We wanted a downtown feel," said Lance Thorson, one of the owners of both locations. "We've had a great response downtown." The expansion, which opens at 11 a.m. today, is the first for the teeming First Avenue brew-and-burger-joint, which opened in Fargo in November 2009. Thorson said the growth of West Fargo and the opportunity to move into an area that's already bustling with four other bars within walking distance made the move attractive. And JL Beers may not be done growing: Without saying where, Thorson said the owners – himself, father Randy Thorson, brother Shawn Thorson, and business partner Warren Ackley – are considering locations "in a few other spots." At first blush, the West Fargo location is virtually indistinguishable from its predecessor, from the high aluminum stools in front of the bar to the vast selection of beers behind it. But there are a handful of subtle differences – four new flat-screen televisions, 32 parking spots and eight more beers on tap for a total of 40. And though it may not look it, the new building is quite a bit more spacious than the old one, seating 49 rather than 24. It's still "an intimate feel," Thorson said. "When you come in, you're around people." The new beer additions, along with a variety of bottled beers, bring the total menu to around 100 offerings. Those range from regional products like Summit to craft beers from around the country. The food menu – a selection of burgers, fries, and homemade chips – is largely unchanged, with the exception of a new "Buffalo Blu" chip topping that combines wing sauce and bleu cheese. Unlike the downtown Fargo location, the West Fargo JL Beers has a full liquor license. Thorson said the bar has no current plans to offer anything other than beer. Nate Wolf, a transplant from the downtown location, is the general manager of the new site. Wolf, who wasn't yet on board when the first bar opened last year, said he's excited to help launch the second. "It's a great spot, it's a great building, it's great beer," he said. While weather will likely factor into the opening-weekend turnout, Thorson said he's heard positive buzz building around the opening. "From what we've heard from the community, they're excited to have something in their backyard," he said.